What's happening?
---
Ritmo coming up this Friday 16 December 2011.
Life Bar
2—4 Old Street
London EC1V 9AA
10pm – 2am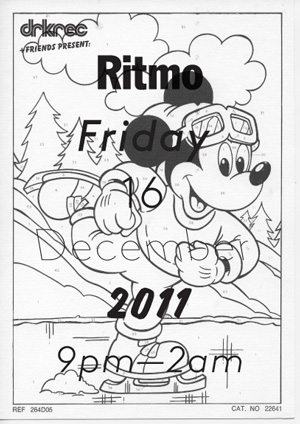 ---
AM/PM will be performing live this Saturday alongside Jan Jelinek and Inch-Time at Cafe Oto.
Saturday 26nd November 2011
Doors: 8pm
Tickets: £8 advance / £10 on the door
More info here
---
Secondo has started a new series of 12"s that will be released under the What About Never imprint. Each release in this series will be vinyl only, hand-stamped, strictly limited and distributed exclusively to a handful of shops only. The first in the series (WAN-01) has just hit the following shops: Sounds of the Universe in London, Gramaphone in Chicago, Halcyon in New York City, Rubadub in Glasgow, and Crazy Beat in Zürich. More shops to follow. But be quick as once they're gone they're gone...
The two tracks on WAN-01 can be previewed on the What About Never website and on Secondo's Soundcloud page.
---
Join us at Life on Friday 22 July. More infos soon.
---
A night of wondrous electronica to celebrate the launch of new label Mystery Plays Records. Inch-time performs songs from the label's debut release The Floating World, plus a rare chance to see contemporary electronic pioneers Icarus and AM/PM.
£5 / £7 on the door
Presale Tickets here.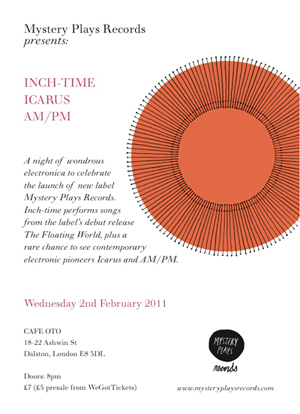 ---
The last of the Balkan vinyl series features tracks by Secondo, Marco Passarani, Plaid and Posthuman. The vinyl is very limited and only a few copies will be available from Juno, Clone, Rubadub, Boomkat etc. Be quick!
---
Some recent reviews of the new Secondo single "I Think I'm Gonna Like":
---
The new Secondo release "I Think I'm Gonna Like" will be available digitally from all good MP3 shops on Monday 19 April. Vinyl will be out a week later. Preview the tracks here:
---
Secondo now has a Soundcloud account. Follow it here for forthcoming releases, mixes, previews etc.
---
Ambient mix by AM/PM for Vessel Music. Check it out here.
---
We celebrate 1 year of Ritmo this month with a two day session. Saturday we open doors as usual but with extra, extra special guests Soundstream and Prosumer, who will be doing their unprecedented, unrivalled and unbelievable 'Say What!?' Live Ka-boom set. Sunday we also make use of the excellent d&b audiotechnik® Soundsystem we bring in especially for the two days and play a fine selection of laid back, B-side-type, dub-your-socks-off records. We will be joined by Soul Jazz Records's very own Karl 'Leave-Da-Studio-Son' Shale.
More info here.
---
Antonelli's new 12" on Dreck Records is in the shops now (amongst others check: Sounds of the Universe, Juno). Also available digitally from Boomkat, iTunes and many other outlets.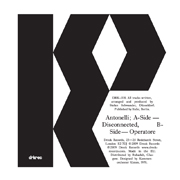 ---
Ritmo party is on 21 November. This month with an extended licence and a special guest from Italy. More info here.
---
Secondo and AM/PM's Radovan Scasascia answers a few questions in an interview for the Inverted Audio website.
---
Secondo has recorded a new mix for the Inverted Audio website. Get it here. For more mixes by Secondo check RBMA Radio and Roof FM.
---
The next Ritmo party is on the 17 October. More info here.
---
It's been a long time! The next Dreck release, a 12" by Antonelli, will be out in November. More info soon.
---